4/24/04

I got into LAX Sat. afternoon to be greeted by Radam and Glen Glendale and we proceeded to head south to the Basic Bowl for their annual bowl Jam/contest thing. We got there just in time for the pros. Jake Presence took the gold with eggplants, ffastplants, airs and other crazy shit. Dave ruel was rueling around the coping, schrraping like a madman. Benji Gallaway was smooth and full of tech. The party was large and full of trendy Cali types. I ran into old man Dan Rea and he talked about a goings on in skatopia. Skatopia is to make a guest appetence in the new Tony Hawk video game. With the contest over, we headed into the sunset and back Adam's abode in Hollywood for a bit of dining and drinking.

The Basic Bowl
4/25/04
The next day I got in touch with knoxville ex-patriot Don "maddog" Rutherford who is working on the Lords of Dogtown movie and hangin out with TA. Then we headed down to Venice beach to check out the freaks and have a beer. The freaks were out, as was everybody else in LA, so we scooted off on our longboards to find less crowded environs. This lead us to the famous Paul Revere School banks (as seen in the Z-boys movie). The banks were freshly surfaced and the skating was excellent, so we shoot a little video. Adam Sandler was also there, shooting hoops with his boys. He thought we were paparazzi. Later that night we headed down to the Cat Club a local hollywood hangout for has been rock stars.
LA Story part 2 ......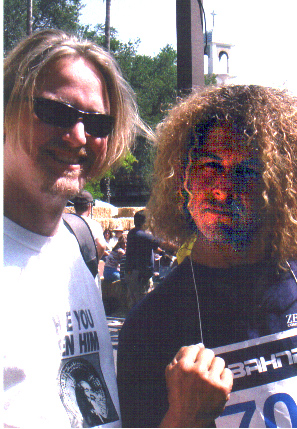 maddogs
Paul Revere

Radam

Mad Dog

Which one is famous?

jcab

jcab

jcab